Meyer & Studeli also purchased pignons from Dancet in 1917, though this could have been for the LTG part of the business.

From 1900 Fritz started to register brand names with Femina being the earliest I've seen. In 1905 he registered "Soleure Watch" though this appears to have been a corporate brand rather than a watch brand.

Fritz Meyer was initially buying in components to create his own line of watches and brands to he suit, but he wasn't just making watches to existing designs though, he was creating new calibre designs; registering at least a dozen before he entered into the World Fair at Liege in 1905. His entry won a Bronze medal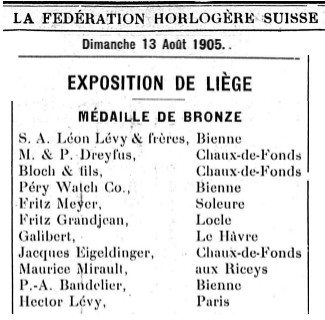 It marked an important step forward as soon after he set up a partnership with Johann Studeli (apparently from Langendorf) and together they formed Meyer & Studeli, a partnership which was the basis of a company that would outlast both them and their children. In October 19052 a new calibre design was registered in the name of Fritz Meyer but by June 19062 when the entry for the Milan Fair was made the name had been changed to Meyer & Studeli.

Together they continued to develop new watches, entering into more World Fairs, winning Silver Medals at the Milan Fair in 1906 and Brussels Fair in 1910.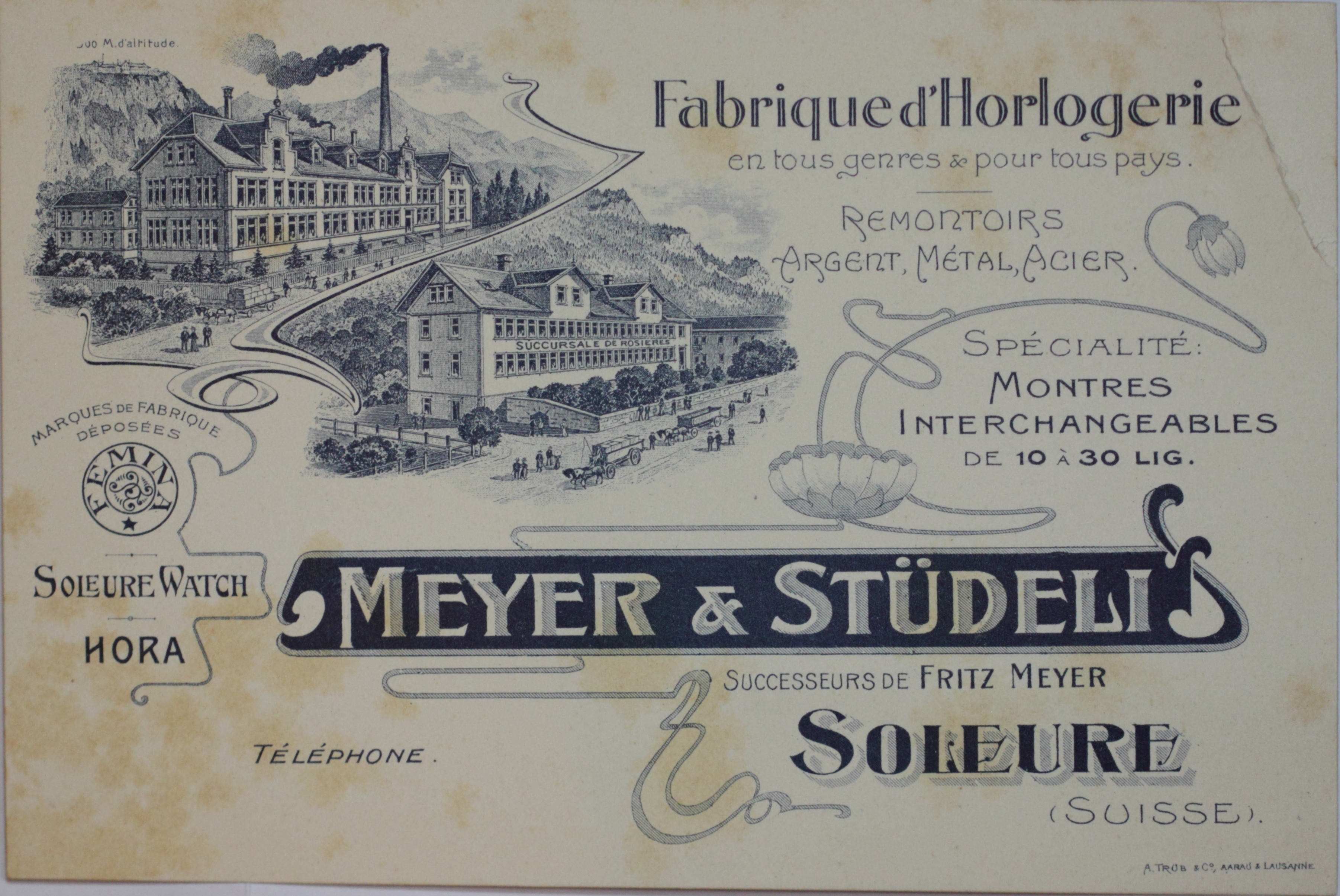 A card from the period 1906 - 1909

In these early days of the company we can see a move from the initial production of ebauches, the basic mechanism, through to the building of complete watches from start to finish. It would take until the Twenties before all production came in house including the making of cases, but in the period 1916/1917 a new step forward was taken by taking over the business of L Tieche Gammeter who also had a factory in Soluthurn. In 1918 the business was re-registed as a limited company - Meyer & Studeli SA. In 1920, as the company headed towards the peak of it's production levels the share capital of the company was increased from one million Swiss Francs to two million.

1926 marked the death of Fritz Meyer but his sons had by then long been active in the business and took control.

In 1967 Max Meyer, Deputy Chairman of the Board died suddenly at age 50 and Ernst Meyer, Vice President and Managing Director of the Board also died at age 70.

With the death of founding family members, control of the company passed in 1968 to three managers. The company was producing more than 20 calibres ranging from small ladies to large pocket watches, none of which were recently produced with nothing planned for the future. They took the decision to cut back the number of calibres and build new ones.

In 1969 Neosonic SA was created in Biel to research electronic timepieces, a joint venture by Buren, Certina, Rolex, Roamer and Federal Institute of Technology Zurich. New patents established by Neosonic, but manufacture was to be implemented by the founding houses

In 1972 Roamer presented the Micro Quartz at the Basel Fair, created in only ten months.

Roamer had a collaboration factory in Budapest which in 1973 produced 20,000 watches, largely ladies, to support their strong presence in Hungary. The watches were not marked Swiss Made and were distributed by the Orasok chain which had some 50 stores and points sale with a good after-sales service.

In 1975 the Swiss watchmaking industry was suffering from recession with ASUAG reporting a decrease in average order receipts of 40%. In January Roamer applied for an administration order, closing its manufacturing and case making departments to concentrate on assembly and sales, laying off 239 of its 600 staff with up to an additional 100 being lost from retirements etc.

The closures appeared largely a result of the weakness in the market, adverse changes in the Swiss Franc against the Dollar and the loss of market share despite Roamers attempts to modernise its product offerings.

Roamer at this point had a combined 11.5 caliber (Cal 521-22 - 23) considered good quality although a bit complicated and a very modern quartz calibre that worked very well but which was a year late in production following development issues. With 500,000 mechanical calibres produced in the year Roamer could not find enough sales volume to become competitive enough to meet the rates offered by Ebauches S.A. Roamer had capacity to produce 350,000 cases per year, but was producing only 200,000. With only these two calibres in manufacturing, Roamer had been forced to rely on buying calibres from ETA.

It was noted that an agreement with other manufacturers failed and a major US customer had distanced himself a collaborative project (the Seth Thomas brand?). Roamer announced that it would be reliant upon purchasing calibres from seven other manufacturers, allowing the company to concentrate on assembly and distribution. In February The Solothurn District Court granted a four months restructuring moratorium. The court also approved a scheme of arrangement under which the creditors must be satisfied by successive stages within two years from the entry into force of the arrangement.

The administrator of the property was the Industrial Trust Fiduco S. A., Biel. With this suspension, the company hoped to restructure and to obtain bank loans.

The ramifications of Roamers collapse extended beyond the company and in 1976, dial manufacturer Alduc SA filed for bankruptcy citing the bankruptcy of Roamer, one its big customers as cause.

Roamer remained in administration until 1979 when under the control of the President Mr. Arnauld (former director general of Bulova) the shareholders of Roamer Beteiligungs- und Immobilien AG (RBI) (Roamer Investments and Property AG) approved the sale of Roamer Watch Co SA, generating cash to repay debts.

60% of the company shares were reported as being sold with Mr. Behbehani, a watch distributor in Kuwait being reported as becoming the majority shareholder.

In 1981 Roamer Watch Co. SA and its distribution subsidiaries in Hannover and London were joined by Rotary SA, an affiliate of the General Watch Co. Ltd (GWC), to produce synergies in administration and manufacturing, repaying a million franc loan from a Kuwaiti customer. GWC was the ASUAG subsidiary that controlled the finished watch making subsidiaries.

Roamer Watch, remained a legally independent company, continuing to operate in the same premises, with Vidar SA, also a subsidiary of RBI.

The direction of RBI and the Vidar continued to be assumed by Rolf Heim, who entered the Roamer Watch Board of Directors, the company to be headed by Mr. Jacques Apotheloz hitherto deputy director GWC General Watch (Swiss market) SA.

Reference dates:

1900 - Femina registered
1901 - Soleure Watch registered
1902 - Elegant Watch, Hora and Excellenz registered
1903 - Moles registered
1903 - Tiega registered (LTG)
1905 - Bronze medal at Liege World Fair
1905 - Palmyra registered (LTG)
1906 - Bronze medal at Milan World Fair - entry registered to Meyer & Studeli
1906 - Pikfein registered (LTG)
1906 - Auch-Da! registered (LTG)
1906 - Cobea registered (LTG)
1906 - La Soleuroise registered (LTG)
1907 - LTG registered (LTG)
1907 - Melodie registered (LTG)
1907 - Pfeil registered (LTG)
1907 - Sagita registered (LTG)
1908 - Roamer registered (LTG)
1908 - Arrow registered (LTG)
1908 - Emisphere registered (LTG)
1908 - Niobe Watch registered (LTG)
1909 - SW in oval and SWC in rectangle with stars registered
1909 - Medana and Medana Watch registered
1909 - Augurio registered (LTG)
1909 - Boron registered (LTG)
1909 - Satisfaction registered (LTG)
1909 - Vali registered (LTG)
1909 - Vidar registered (LTG)
1910 - Silver medal at Brussels World Fair
1912 - Cedric registered (LTG)
1913 - LTG patent winding/ hand setting mechanism
1916 - Letterhead shows lever as well as cylinder movements being sold
1917 - Arrow registered
1917 - Satisfaction transfered from LTG to M&S
1918 - M&S re-registers as M&S SA
1918 - Arrow, Augurio, Cedric, Cobea, Emisphere, La Soleuroise, LTG, Niobe, Palmyra, Pfeil, Roamer, Sagita, Tiega and Vidar transferred to M&S SA
1920 - MS/ Satisfaction and Satisfaction/ MS/ Swiss Made in circle registered
1921 - M&ST/S/Swiss Made in circle registered
1920 - Delia registered
1921 - Satisfaction/ MS in circle registered
1922 - "This watch guaranteed made of best materials and will last with care five years" registered
1923 - "This watch guaranteed made of best materials and will last with care five years" in rectangle with round top registered
1923 - Madonna registered
1926 - Solexa registered
1926 - Tiger logo with Emanuel's registered
1926 - "How can they make them for the money?" registered
1926 - Tiger logo registered
1926 - Tiger logo with Arrow, Medana and Roamer registered
1927 - Rayco, Workhard and Vanguard registered
1927 - MST logo registered
1929 - Meda registered
1930 - Medox and Pall Mall
1931 - Burow registered
1931 - Meda in oval registered
1934 - Meda in V registered
1935 - watch - old Roamer logo, MST264 marked on dial side, no shock protection.
1938 - New Roamer logo Registered in London
1939 - Advert for 'new' pin lever movements
1954 - 1960 RW used in addition to Roamer logo
1962 - Roamer logo modified and includes 'of Switzerland'
1965 (or after 1962) - Roamer logo in serif


Some of the calibres were taken over by other manufacturers. I have included calibres 36 and 40 although there is some question as to whether these are LTG calibres or designs of Edouard Tieche who was active in the 1920's. These calibres are clearly LTG in design so it isn't clear if these were developments by a family member or made by M&ST for Edouard.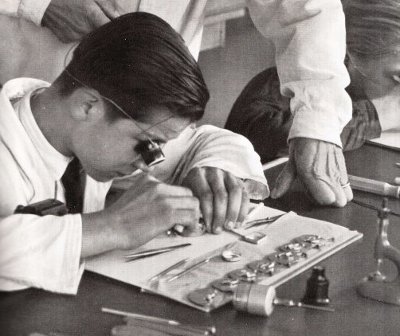 This site is a work in progress as my collection is still far from complete. It's focus is on watches of all brands prior to the rebranding of the company to Roamer, as well as a collection of the Roamer Sport range.

The oldest watches in my collection of each escapement type are:

Cylinder: 1908 - MST 41 and MST 41
Lever: 1918 - MST 157, MST 175

I have a 1917 LTG lever MST 189




Sources:

1) Vuk Djurinovic: 125 Jahre Uhrmacherschule Kanton Solothurn

2) La Federation Horlogere Journals and newspapers etc

3) Mikrolisk.de

4) Vintage Roamer Watches

5) Ranfft Watches

With thanks to Mike of mission-RADO.de for help in translation.